29 May 2014
For today's Skywatch are the photographs of parakeets against blue sky, on a tree at
Taj complex
.
Happy Skywatching!!!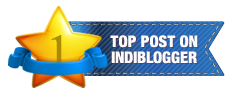 24 May 2014
Being a mother is a gift of joy in itself and if your 4 year old turns up with a hand sketch card to wish you on Mother's day, then you are on cloud 9. To add to the Mother's Day celebration and fun was a Play Date with
Dove
, an all women indiblogger's meet, for those pretty daughters, stunning sisters and gorgeous moms.
I reached quite on time and registered. At the Dove registration counter, each of us were allotted to one of 12 groups, we were handed over the group bands, task list and the Map. There were cams to click selfies and upload on twitter. Then was the photo session with masks, colour hats, hair accessories. After snacks, we assembled at the ball room, for an intro and the start of the #playdate.
We joined our team and it was Zumba time, to shake our body. A warm up session for an evening full of action. Then started the tasks, Jigsaw Puzzle, Have a ball(where three members of the group standing in a pool of balls, had to throw the white balls into the tube held by two other members of the team), Hips don't lie(Hula hoop, which turned out to be so true for me that I couldn't complete even single round), Hair do(where each of us in the team had to get a hair style done from one another) and our last task was Dove Salon. But by the time we reached Dove Salon, we were already late and were asked to head to the pool side. At pool side was "Be the Bartender", were we nominated one person per team to make a perfect cocktail for the evening. It was one of the group events, unfortunately which our team lost. We were back from pool side to have our hair done at the Dove Salon, and my stylist gave me a simple but fab hair style.
And the best part, take aways. Our pics with props and the Dove hamper(Dove Elixir and hair straightener). As I have already been using a straightener since years, the Elixir was a perfect take away for me.
The Dove Elixir Dryness Care oil which I received is enriched with Lavender and olive oil which leaves your hair smooth. The oil can be used for nourishing your hair by applying prior hair wash, as it claims to nourish just in 30 mins and also can be used as an after-wash/serum to leave your hair shiny and non-greasy. The oil has a mild lavender fragrance, which sooths your mind too. The packing is perfectly lovable, a transparent pump bottle. Floating lavender petals in the oil, gives the product a luxury look.
All in all, it was a perfect evening with lot of fun, action and goodies.